faith58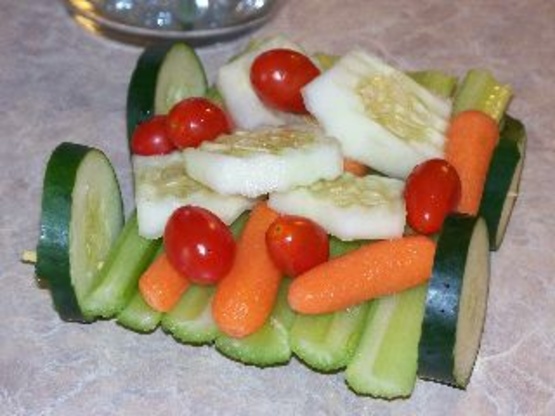 I got this recipe out of this month's simple and delicious and will be making it soon for the kids. You can use any vegetables you want and get set for the kids to get excited to eat their veggies. You can also use veggie dip for them to dip the vegetables in. Other veggies you can use, mini carrots, broccoli, grape tomatoes

DD (toddler) loved this. It was a bit hard to put the second skewer through the celery. I found the best way was to twist it through gradually. Be careful when giving children celery and carrot sticks especially since they are so hard. Watch them. I served it with a special type of hummus. Would be good to try at a child's party. Made for What Kids Eat Tag Game in KK's forum.
1

medium cucumber

2

wooden skewers (6 inches)
red shoestring licorice (optional)
Cut celery ribs in half lengthwise and then into 6-in. pieces. Cut cucumber into 1/2 inches slices.
Place one cucumber slice on the end of each skewer, place celery pieces lengthwise across skewer's to form wagon frame.
You can also tie a red shoestring licorice around one of the celery pieces in front for a handle.
Pile carrots, brocolli and cucumbers on wagon. Serve with dip!
The kids will love these.