I have always loved eclairs and what could be bad with a tiramisu eclair? Found in Southern Living Magazine, September 2003.
Directions
Stir together first 3 ingredients until sugar is dissolved; set aside 2 tablespoons mixture.
Brush cut sides of ladyfingers evenly with remaining coffee mixture.
Stir together mascarpone cheese, 1/2 cup powdered sugar, and chocolate syrup until blended.
Spoon or pipe mascarpone cheese mixture evenly onto 24 cut sides of ladyfinger halves; top with remaining ladyfinger halves, cut sides down.
Microwave chocolate morsels, butter and cream at HIGH 30 seconds or until melted, stirring twice.
Place chocolate mixture in a small heavy-duty zip-top bag.
Snip a tiny hole in 1 corner of bag, and drizzle over eclairs.
Let stand until firm.
Stir together reserved coffee mixture and remaining 1 cup powdered sugar, stirring until blended.
Place coffee-powdered sugar mixture in small heavy duty zip-top bag; seal bag.
Snip a tiny hole in 1 corner of bag.
Drizzle eclairs evenly with coffee-powdered sugar mixture.
Place on a serving platter, cake stand, or in candy boxes, if desired.
Most Helpful
These were very well received at my Christmas party and they looked so pretty on the platter. Strawberries were not in season, so I didn't use them but I def try that when strawberries are in season. Thanks for posting!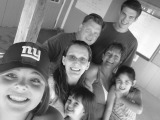 Very tasty and a great mini dessert for a party! It's classy and makes you look like a better cook!
wow do these impress! Served them with coffee at Thanksgiving. They were a little involved to make for the first time, but now that I know the process, I will make them again. I only had one choice for lady fingers and they were the crunchy kind. I think they were better the next day after they had set. I am going to make these again for sure. I used cream cheese b/c it was cheaper than marscapone. I might try to lighten up the recipe with low fat stuff next time. Winner!