gailanng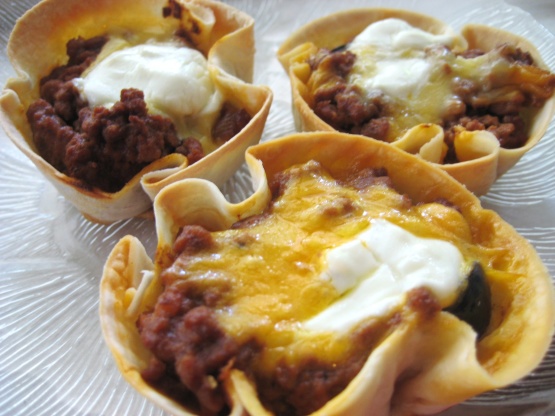 Another recipe from the Simple 1-2-3 Easy Appetizers cookbook. These tasty taco quiches are a party favorite. The "crust" is a flour tortilla and the quiches are comprised of ground beef, taco seasoning, cheddar cheese, black olives, and sour cream.

At a time when I was about to relocate my husband to the dog house forever he raved over these. He's back in like flint and ready never to question my culinary efforts should I ever cook again a recipe of HIS own choosing. Oh, instead of greasing the muffin cups I brushed vegetable oil on the bottom of each round. I saved the hot sauce for dashing on top with a wonderful effect. Chopped jalepenos on top would be great, too. Thanks for sharing.
Preheat oven to 350°F Grease 12 muffin pan cups. Set aside.
Cook beef and onions in large nonstick skillet until meat is browned; drain. Remove from heat. Stir in olives, tomato sauce, 1/4 cup water, taco seasoning, hot sauce and egg; mix well.
Using a 4-inch round cookie cutter, cut each flour tortilla into 3 rounds. Fit tortilla rounds into prepared muffin cups. Fill each tortilla cup wih 1/4 cup meat mixture. Top each with sour ceam and cheese. Bake 25 minutes or until heated through.