ImPat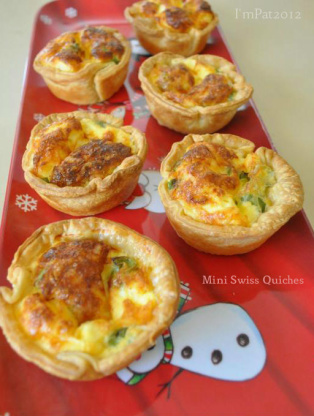 Posting another recipe for the Swiss region of ZWT. Found this recipe at cdkitchen online. I love quiches and especially the Swiss quiches. This would be great to make and then freeze leftover quiches for a quick week day breakfast.

Top Review by ImPat
O'kay I scaled back for 12 but when I started out I realized my muffin tins were too large and ended up with 6 and had to double the amount of egg mix, the rest was fine (which I had done too much of int he first place so worked out well :lol:). Baked in a 175C fan forced oven for 25 minutes for perfect and delectable morsels (I tried one cold as my idea was to freeze them and have them for when we went on our 4x4 trips with the club as I prefer a savoury morning tea to a sweet one but when the DH got up from sleeping (going onto night shift) and I explained I should have used my patty cake tins he went no because it would be too muchs pastry and not enought filling at least for his liking), and to be honest I am very happy to stay with what I cooked and it was delicious and looking forward to see how they freeze and then taste. Thank you diner524 made for 123 Hits tag game.
Allow both pie crust pouches to stand at room temperature for 15 to 20 minutes. Heat oven to 375. spray 24 miniature muffin cups with nonstick cooking spray.
Unfold 1 pie crust; peel off top plastic sheet. Press out fold lines. Place crust on cutting board or pastry cloth; peel off remaining plastic sheet. Using a 2-1/2 inch round cookie cutter, cut 12 circles. Repeat with remaining pie crust. Press 1 circle of dough into bottom and up the sides of each sprayed muffin cup.
Place 1 tablespoons cheese in each cup, top each with a few onion slices and crumbled bacon. In a 2-cup measuring cup; combine eggs, milk, salt and nutmeg; beat well with fork. Pour mixture into crusts; filling to within 1/4 inch of top.
Bake at 375 degrees for 25 to 30 minutes or until golden brown. Cool slightly. Lift quiches from cups with tip of knife. Serve warm.