Mini Salad Bar for Picky In-Laws
ImPat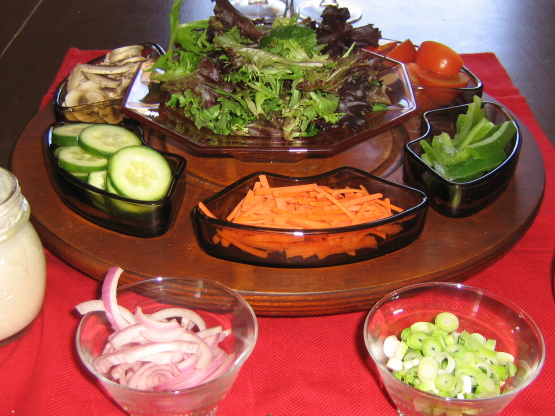 My in-laws are wonderful people and I love them dearly but, except for my MIL, they are picky eaters. And they are each picky in their own way too so what my SIL likes my BIL won't eat and what my BIL likes my other SIL picks out. This is my salad solution when I'm hosting the get-together. Its not hard to cut down the quantities if you don't have as many in-laws. :D

Top Review by ImPat
Got to admit to doing this for years using different vegies (what's in season) and according to who shall be present - for our hot Christmas our salad bar consisted of lettuce mix, juliened carrot, sliced mushroom, sliced spring onion, sliced red onion, tomatoe wedges, capsicum/green bell peppers, cucumber slices and sliced celery. Thank you 3KillerBs for posting the recipe.
Wash, trim, and chop or tear all greens. Put the iceberg in one bowl, the mesclun in another bowl, the spinach in another, and the romaine in another.
Clean and slice the cucumbers. We don't peel garden cucumbers, only store cucumbers. You can if you prefer. Arrange in a shallow dish.
Wash tomatoes. If full-size, slice them into thick rounds and arrange in a shallow dish. If cherry tomatoes, take stems off and put into a bowl.
Put the remaining items into more small bowls.
Provide a selection of dressings, homemade or store-bought. I suggest several variations from Recipe #213989.
Note -- if there is something you know EVERYONE likes increase the quantity as needed.
A bunch of attractive, coordinating bowls are very nice if you have them, but if your in-laws are as informal and loving as mine are the cereal bowls will do just fine. :D.