JustJanS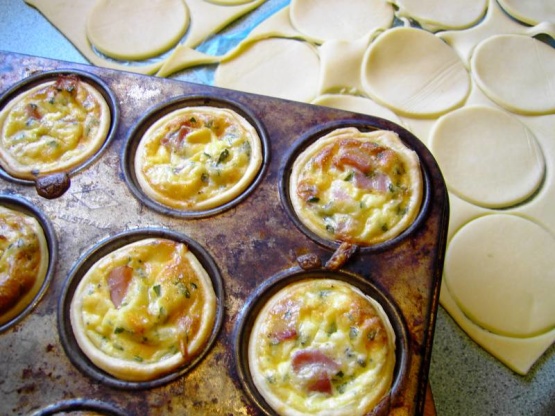 Very popular finger food in Australia, expensive to buy, but so simple to make!

Yummy! I made it with Puff Pastry instead of short pastry crust, and it tasted just like a Baked Egg Souffle from Panera Bread! Just puff the pastry for a minute before adding the egg mixture. I did regular muffin-sized quiches instead of mini ones. I still baked them for 12 minutes. I will definitely make these again!
1

kg ready-rolled shortcrust pastry (6 sheets)

6

slices bacon, diced

1

onion, finely diced

6

eggs

1

cup cream

1

cup grated cheese

1

tablespoon chopped fresh parsley (I used dried)
salt & freshly ground black pepper
Cook the onion and bacon over a low heat until the onion is softened.
Allow to cool a little.
Mix together with the eggs, cream, cheese, parsley and salt and pepper.
Using a cookie cutter or glass, cut 12 circles from each pastry sheet.
Use these to line a mini muffin pan.
Place about 2 teaspoons of the egg and bacon mix in each pastry base.
Bake in a moderate oven for about 12 minutes per tray (or until puffed, golden and set).
repeat with remaining pastry sheets and mix.