Brenda.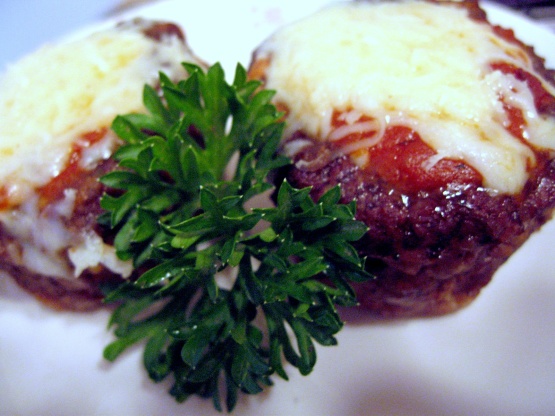 I'm not crazy about meatloaf, but my husband is. I do however want to eat it when I do make it, so I found this recipe from What's Cooking magazine, tweaked it a bit to suit my taste and they're not half bad.

Top Review by Leslie
Delicious and so quick and easy to make! Dinner was on the table in about 1/2 an hour. I ended up with exactly 12 mini meatloaves, but I do think I had a little more than the stated amount of ground beef. This is a real kid pleaser, my 6 year old gobbled them right up. We loved this Lori, thanks for posting!! PS: Wayne had one of the left-over loaves cold on a hamburger bun for lunch today and thoroughly enjoyed it! :)
Heat oven to 375.
Place beef in bowl along with stuffing mix and seasoning.
Mix well.
Spray an 8 sectioned muffin tin with non stick spray.
Divide the meat mixture into 8 pieces and press the meat into each section.
Make an indentation in each and spoon the sauce into each one.
Bake 30 minutes or until done.
Divide the cheese evenly over the top of each muffin and return to the oven to melt.
Remove and let stand a few minutes so they are easier to take out.