2Bleu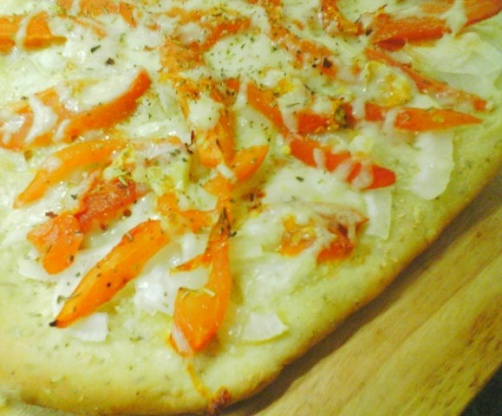 This is one of the most simple, easy appetizers to prepare. Use it as an appetizer or serve as a pizza, everyone loves the taste!

Very nice change from the usual pizza, & WE LOVED IT! The only thing I'd change another time is to make my own pizza crust, BUT for ease in preparation, this recipe works great! I did use both a cup of thinly sliced leeks as well as about 1/3 cup of sliced onion, with everything else as called for in the recipe! Want to keep hold of this one! [Made & reviewed while on tour in Italy on Zaar's World Tour 4]
Preheat oven to 450° degrees F.
Place crust on large pizza pan or baking sheet. Spread olive oil evenly over pizza crust, add the grated Fontina cheese. Arrange leeks or onions atop the cheese. Add the chopped tomatoes and thyme. Season with salt to taste and add the pepper.
Bake pizza until crust is golden and cheese melts, about 15 minutes. Remove from the oven and cool in pan for 5 minutes. Cut into triangles or squares or diamonds or wedges and serve.