Mini Pineapple Upside Down Cakes
diner524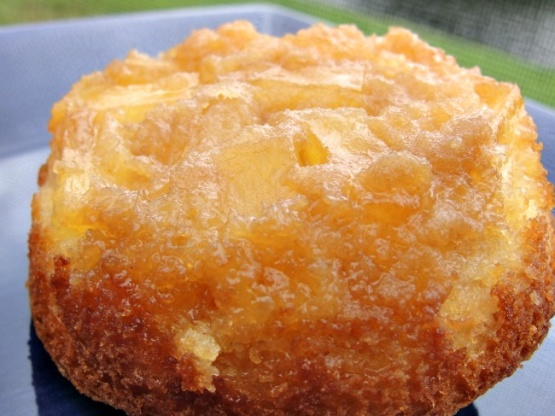 Found on Slice of Life's Facebook page, who credits http://www.bigmamashomekitchen.com/2010/10/mini-pineapple-upside-down-cakes.html

These came out really well...I was able to make 30 cupcakes. Six of them are coconut instead of cherries and they are really good. My kids loves it!
Preheat oven to 350°F Spray your muffin tins with non-stick cooking spray.
In a mixing bowl, add eggs, white sugar, and pineapple juice. Beat for 2 minutes. In a separate bowl, sift together the flour, baking powder, and salt. Add to the wet ingredients and turn mixer back on for 2 minutes.
In a small sauce pan, melt the butter and add the brown sugar. Stir on low heat for one minute.
Spoon layer of the warm brown sugar mixture into the bottom of each muffin tin, then place a pineapple ring on top. Add a cherry in the middle of each pineapple. Pour cake mixture over to fill muffin tin 3/4 of the way full. If you are using regular muffin tins, you will need to cut down the rings to fit or just use pineapple tidbits.
Bake for 30-35 minutes, until a wooden pick in the center of cakes comes out clean.