DuChick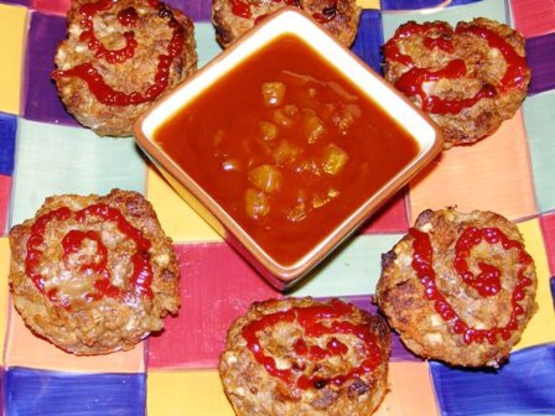 The SAUCE topping gives a wonderful flavor to these mini meatloaves! My family enjoys them with creamy mashed potatoes. Bake extra ones for a quick dinner on another day! You'll love the sauce!!!

Very nice family meal! I added mushrooms to the meatloaf and used homemade tomato sauce instead of ketchup with the meat. The sauce was made as directed and was simply yummy! I was able to get five single servings out of these by using shaped mini pans (stars, hearts, etc.). The kids loved them. Thanks for posting!
Mix ground beef, onion, bread crumbs, ketchup, worcestershire sauce and salt.
Press beef mixture into a 6 cup muffin tin. Spoon small amount of ketchup on top of each.
Place in a 350 degree oven and bake for 45 minutes. (While baking prepare sauce.) Remove from muffin tin and place on serving plate.
SAUCE: Saute chopped onion and celery in olive oil in a small saucepan.
Add ketchup, brown sugar, lemon juice, worcestershire sauce and water. Simmer for one minute. Spoon sauce on tops of meatloaves. Serve.
Enjoy!