*Pixie*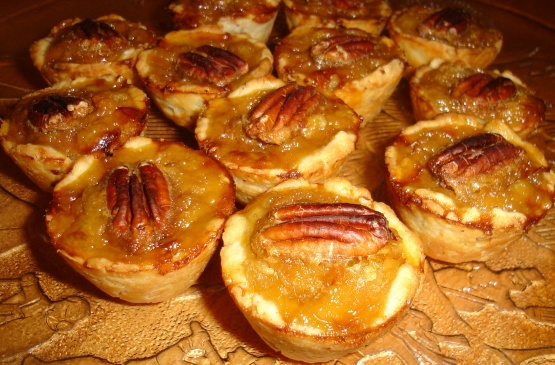 Recipe by Derf
A sweet for RSC#10.
These tarts are certainly tasty but I found the coffee liqueur to be over powering so that I couldn't detect the maple at all. If I prepare these again, I would definitely cut the liqueur in 1/2 or omit it. I was looking forward to the maple flavor. I prepared the large but thin type of tart, which made 6. I lowered teh oven temp to 425 for 8 mins to start as my oven runs a wee bit on the high side. I then cooked them a further 8 mins @ 350. They tested done (knife test) but later upon tasting, I was surprised that they didn't have the same texture as 'butter' tarts, which is what I had expected. This is not a bad think - the texture is excellent but don't expect a really sweet and almost gooey-ish experience. I do like them but for me personally, I'd most likely omit the liqueur and increase teh maple syrup slightly while also adding a bit of maple flavoring. Thank you for this treat!! RSC#10 Sharligan
Preheat oven to 450°F.
Place prepared tart shells on cookie sheet.
In a small bowl, add egg, heavy cream, melted butter, maple syrup, raisins, chopped pecans, salt, and coffee liqueur; stir well.
Pour mixture into prepared mini tart shells.
Place one whole pecan in the middle top of each tart.
Bake at 450°F degrees, on middle oven rack for 10 minutes; turn heat to 350°F degrees and bake a further 7 or 8 minutes.