teresas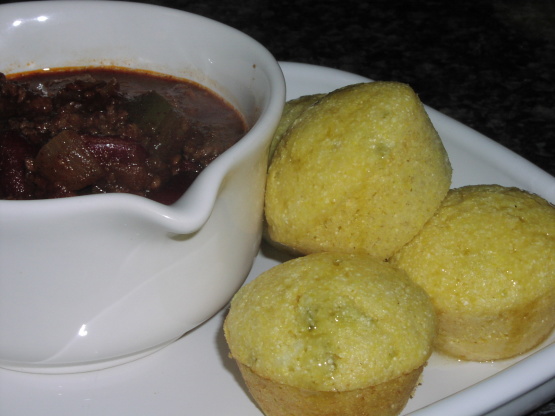 This is out of my "KCTS Chefs 2002" cookbook...it was sent in by Chef & co-owner Matthew Marcus...the restaurant was (it is now closed) called..."From the Bayou"...hope you enjoy...

WOW ! ! These had a nice zip. Made this as written, though I halved it. Baking / cooking time right on the mark, and made for a great treat with some pork ribs. Great side dish, or appetizer. Made for PRMR Tag.
Preheat oven to 375°F.
Grease a 24-cup mini muffin tin with a nonstick spray.
In a large bowl, combine flour, sugar, cornmeal, baking powder and slat.
In a separate bowl, beat the eggs with the jalapeno, milk and honey.
Add the dry mixture slowly to the wet mixture.
If desired, add a little of the jalapeno liquid to make'em nice and spicy.
Spoon the batter into the sprayed muffin tins.
Bake for 10 to 12 minutes.
Note: They are wonderful drizzled with creamed honey and butter.