Mini Ham and Cheese Turnovers
Mulligan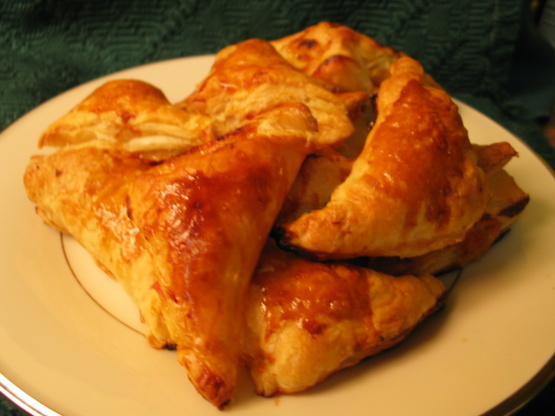 This is from a pull out page in a Womans Magazine. This uses 1 thawed frozen puff pastry dough.

This was easy and delish! I've made some of these before and instead of cooking them right away, I've frozen them. You can cook them straight from frozen. I chopped up the ham and cheese because it is easier to eat that way. I used the egg, but my dough didn't need them. It actually sealed better without the egg. It was also sticky on top. I'll probably skip that step next time (and there WILL be a next time).
On a floured surface roll 1 pastry sheet into a 16 inch square, and cut into 4 inch squares.
Mix the pineapple preserves with the curry power and spread in each square leaving a 1/4 inch border. Divide the cheese and ham over the spread in each square.
Brush the edges with the beaten egg and fold into triangles. Seal edges with a fork and brush with egg mixture.
Preheat oven.
Bake at 400 F on an ungreased baking sheet 10-12 minutes until golden brown.
Mine baked a bit faster so I would keep an eye on them after 8 minutes.