Mini Frittatas With Ham & Cheese
vrvrvr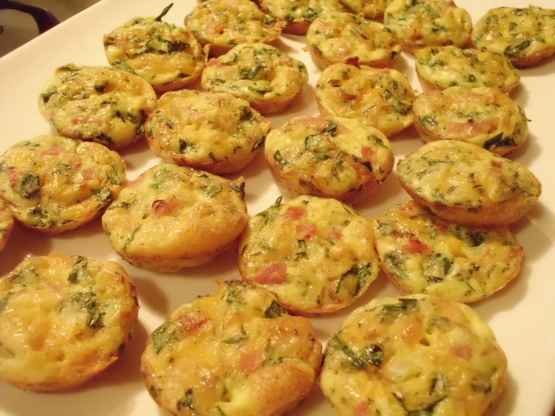 Bake these bite-sized frittatas in a miniature muffin pan. They taste great hot or at room temperature, so you can make them in advance. You can use 4 large eggs in place of the egg whites, egg whites just make it lower in fat. Enjoy!

I found these to be quite good and tempered what I did based on other reviews. Using 5 whole eggs worked out fine. In fact just enough - Someone said that 2 tbls. of chives was too strong so I only used 1 tblsp. Next time I will use 2 tblsps. - I may have used a "generous" 1/8 tsp. of thyme and found it to be a bit much. Maybe I will I will make it a scant 1/8 tsp. next time. -- I think my pan was on the large side and it only took 15 minutes.
Preheat oven to 350 degrees.
Heat a large nonstick skillet coated with cooking spray over medium-high heat.
Add onion; saute 2 minutes or until crisp-tender.
Add ham; saute 3 minutes.
Remove from heat; cool 5 minutes.
Combine remaining ingredients in a large bowl; stir with a whisk.
Add ham mixture, stirring with a whisk.
Spoon mixture into 24 miniature muffin cups coated with cooking spray.
Bake at 350 degrees for 20 minutes or until set.