flower7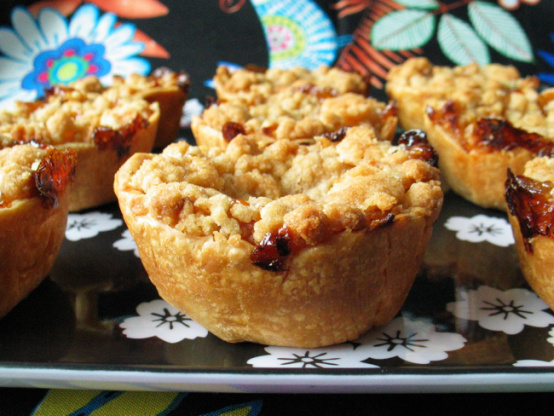 My recipe for apple pie made mini! super easy and fun! serve warm with vanilla ice cream, and you'll be in heaven!

I halved this to use a single leftover ready-made pie crust. I used two whole apples because as I was chopping it didn't look like 1 1/2 would be enough. The apples I had were *very* sweet so I just used 1/4 cup brown sugar in the filling (no white sugar). Otherwise followed the recipe, using about 1 Tbsp lemon juice in the filling and a homemade apple butter (recipe #329930) Also used 3 Tbsp butter in the topping (rather than 2Tbsp+2tsp which is half of 1/3 cup). The foil lifters were a great idea but I should have removed them from the pan sooner - once they cooled for 5-10 min., the "caramel" that had bubbled up around the tops had stuck to the pan so some of them got a bit mushed when trying to loosen them. In the end, these were very time consuming for me but extremely cute LOL and of course super tasty! Thanks for sharing! [Made for Spring 2013 Pick A Chef]
Preheat oven to 400.
Using a cupcake tin, place aluminum foil strips into each cupcake cup so that the ends are sticking out (this will help for pulling pies out of pan). Spray with baking spray.
Roll out cold pie dough. Using '1 cup' size measuring cup, cut out 24 circles.
Press dough circles into cup.
In a large bowl mix diced apples and juice of 1/2 lemon. Add sugars, flour, spices, and apple butter.
In another bowl, with a pastry blender if a fork, mix flour, both sugars and butter until coarsely crumbled.
Fill each pie dough with apples to top. Sprinkle topping evenly over apples.
Bake for 30-35 minutes or until. Let cool completely before serving for pie to set.