Bergy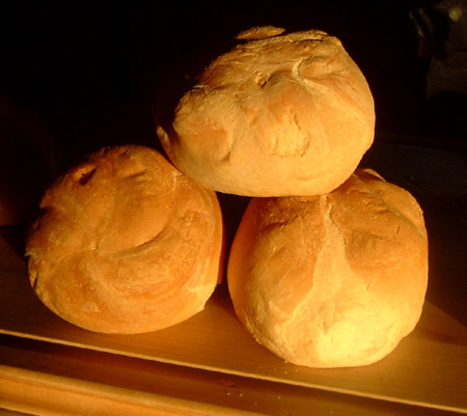 These crusty little loaves make great bread bowls, sandwich rolls and toasting bread. This recipe makes 16-18 "baby breads" ..enough to last us the week and still have some for the freezer. A trick: Slice the loaves into fourths thru the "equators". Use the middle two slices for toast and the outer slices for a sandwich. A great recipe for beginning bread makers. Variations: Italian type bread: Sprinkle one baking sheet with cornmeal then slit the tops of the mini breads and sprinkle with more cornmeal. Bread Bowls: Do not reduce heat or spray with water after 10 minutes. Baking at a higher temperature will make a crustier and more substantial loaf. ****** Note! A mistake was made when I first posted this recipe. As of 1-12-05 the recipe reads 13 cups of flour rather than 11. Thanks. Barb

Top Review by Bergy
Just the recipe that I needed. I cut the recipe to make 4 mini loaves (aprx 1/3 of the recipe). I haven't made bread in quite a while so I was pleased with my results. When I cut into one of the loaves was quite hollow inside - this suited my purpose and will be perfect for soup bowls if the others are like this - they are in the freezer The water under the loaves in the oven and spraying the loaves is the secret for the lovely crust Thanks Aroostook for posting
Starter.
Combine water and yeast in a large bowl and mix well.
Add ¾ cup flour and whisk 100 times.
Cover and let set one hour.
Dough.
Add an additional tsp of dry yeast, 6 cups of (room temp.) water, 4 cups of flour and kosher salt to starter mix.
Whisk 50 times and let stand 2 minutes.
Using a large spoon mix in 2 cups of flour until well incorporated.
Add 3 cups of flour and mix until well incorporated.
Add another 3 cups of flour and mix until well incorporated.
Let dough rest 5 minutes.
Cover working surface with generous amount of flour (about a cup).
Turn soft wet dough onto surface and sprinkle with flour.
Dip your hands in flour and knead the dough.
(Push it down and forward with the heel of one hand. Then pull dough back from the top and fold dough over with the other.).
Gradually add the last cup of flour as you knead for about 5 minutes.
Shape dough into a ball and return to large bowl that has been lightly coated with 1 ½ tsp olive oil.
Brush top with ½ tsp olive oil.
Cover and let rise until doubled (approx an hour).
Deflate the dough, turn out unto a floured surface and knead for about a minute.
Separate dough in half.
Separate each half in half.
Divide these pieces into fourths.
(You should have 16 pieces. And sometimes I get 18 pieces-- lol).
Shape each piece into a tight ball and place on a greased baking sheet (up to 6 to a sheet).
Let rise for 30 minutes.
Preheat oven to 450F and place oven racks in the center of the oven.
Place a pan of water under the racks where the bread will bake.
Place loaves in hot oven for ten minutes.
*Spray/sprinkle loaves with water.
Reduce heat to 400F and continue baking for 10-12 minutes.
Remove from oven.
Paint w/ butter or oil for a softer crust (optional).
*For crustier loaves keep the 450F bake time to 20 minutes and omit 400F bake & water spritz.