ImPat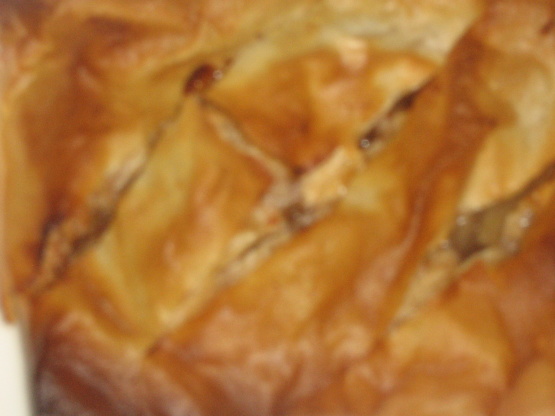 A diet friendly sweet treat that I plan on making this week. This recipe is all about portion control. From TOH Healthy. Each strudel is about 100 calores.

These were very good. I made them for Easter and they turned out very well. It was my first time working with phyllo dough, and I found it to be a little difficult, but the overall result was delicious. The apples were perfectly cooked and I ended up getting 9 strudels from the amount of apples (I used 2 whole ones with only 4 tsp of sugar and no walnuts). Great recipe! Thanks!
Combine the apples, sugar, walnuts, flour and cinnamon. Set aside.
Spray a baking sheet with cooking spray. Set aside.
Place one sheet of phyllo dough on a work surface (Keep remaining dough covered with plastic wrap and a damp towel to prevent it from drying out). Spray with buttered flavored cooking spray.
Fold in half widethwise; spray with flavored spray. Spoon 1/3 cup filling onto phyllo dough (about 2 inches from a short side.) Fold side and edges over filing and roll up. Place seam side down on a baking sheet. Continue same process with remaining dough and filling.
Cut diagonal slits in tops of studels. Spray strudels with butter-flavored cooking spray. Bake at 350° for 20-22 minutes or until golden brown. Sprinkle with confectioners' sugar if desired.