Mini Angel Food Cakes for Two
diner524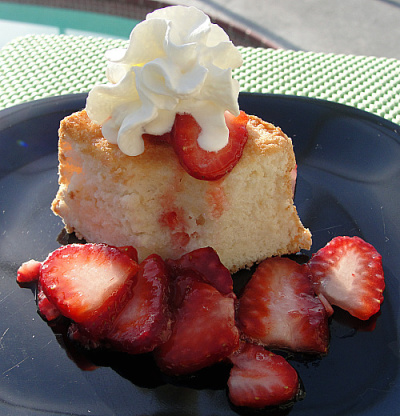 I got this recipe off of the package that contained 2 mini angel food cake pans (4 1/2 X 2" ). I made 1/2 of the recipe for one cake and it turned out perfectly and would serve 2-3 for one cake. I served it with fresh strawberries, ice cream and whipped topping and it was a hit.

This recipe interested me because I always use cake flour and powdered sugar plus regular when I make my recipe. So I wanted to see how the texture of this cake compares to mine. I was able to get 3 mini cakes out of this recipe. My mini pans are a two piece angel food and the measure 4x2. I'll come back tomorrow after the taste test and give my rating. Well, sorry to say we did not like this at all. It was dry and tough. I don't know why but when I mixed dry ingredients into whites, it was hard to get them to mix for some reason. Needless to say I'll stick with my Recipe #12591. Sorry for the 1 star, I guess I'm spoiled from the real thing. Made for 1~2~3 Hits ~ September 2010
Preheat oven to 375 degrees F. Sift flour with 1/3 cup sugar 3 times.
In a large bowl, beat egg whites and salt with electric mixer until foamy; add cream of tartar and beat until soft peaks form. Gradually beat in the remaining 1/3 cup of sugar and beat until stiff peaks form; fold in vanilla. In two additions, gently fold in flour mixture until just combined. Divide batter between the two pans; place on sheet pan.
Bake 20 to 22 minutes or until browned and toothpick inserted comes out clean. Invert pans on cooling grid to cool. Loosen cakes from pans with spatuals; remove from pans.