Minestrone With Shrimp, Garbanzo Beans, and Autumn Squash
Annacia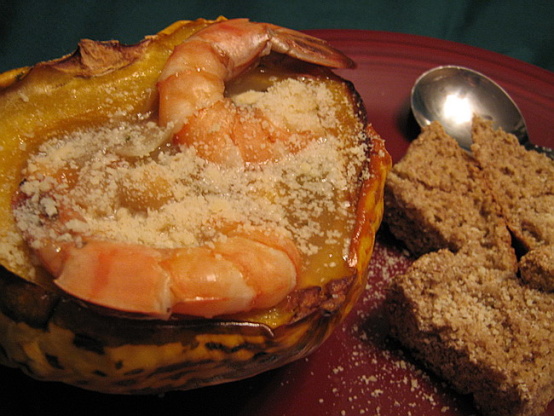 This looks a real treat if served in a personal sized accorn squash. When cooking them just make sure that they don't overcook and become mushy. Cut off the bottom just enough so that they will stand up, cut off the "lids" and clean out all the seeds, if the squash is a bit larger use half of it, and bake till done before putting the soup into them. Buying pre-cubed squash for the soup is a real time saver. Presoaking time for beans not included.

Very yummy soup, esp. if you like shrimp and butternut squash. I used already cooked (had to defrost) garbanzos, 1 drained can of chopped tomatoes, no red pepper flakes. I used large shrimp, so I cut them in thirds in order to spread them out (I also used 8 oz). I was able to cut the time down to 40 minutes total. Going in my cookbook! Thanks Annacia.
Soak dried beans at least 8 hours.
Or bring to a rolling boil; remove from heat.
Cover and let stand 1 hour.
Simmer presoaked or quick-soaked beans for 30 minutes. Set aside.
In 4-quart Dutch oven cook carrots, onions, and garlic in hot olive oil over medium heat for 5 minutes, stirring occasionally.
Remove from heat.
Rinse and drain beans in colander.
Add dried, precooked beans (NOT canned beans), chicken broth, rosemary, crushed red pepper, and bay leaf to Dutch oven.
Bring to boil; reduce heat.
Cover and simmer for 30 minutes.
Add squash and tomato.
If using canned beans, rinse, drain, and add with squash and tomato at this point.
Cover and cook 20 to 30 minutes more or until beans and squash are tender.
Remove and discard bay leaf.
Stir in shrimp and basil.
Bring just to boil.
Reduce heat and cook, uncovered, for 1 to 2 minutes or until shrimp turn opaque.