Minestrone With Fennel and Ham
PanNan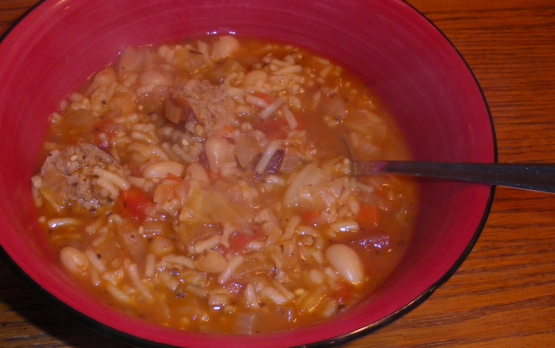 A twist on good ole minestrone. Very tasty and good for you too. This asks for the beans to be drained and rinsed. I never drain the juice from beans going into a soup. It's far too much food value to wash down the drain.

Top Review by PanNan
Because of the ingredients I had or didn't have on hand, I had to make a few changes, but it turned out delicious! I used V-8 instead of the tomato juice and left out the green beans and zucchini. I had some turkey Italian sausage (no prosciutto), so I browned the sausages and sliced them before adding. I also used vermicelli instead of shell pasta. Although it sounds like a lot of changes, I think the true character of the dish was still there. We really enjoyed it on a blustery winter evening. Made for photo tag.
In a large Dutch oven or kettle cook onions, celery, carrot, garlic, and crushed red pepper in hot olive oil or cooking oil until onion is tender.
Stir in the chicken or beef broth, undrained tomatoes, tomato juice, fennel or cabbage, and Italian seasoning. Bring to boiling; reduce heat. Cover and simmer for 20 minutes.
Stir in the cannellini or great northern beans, zucchini, green beans, pasta, and prosciutto or ham. Bring to boiling; reduce heat. Cover and simmer for 10 to 15 minutes or until vegetables and pasta are tender.
To serve, ladle soup into bowls; sprinkle with Parmesan cheese.
Make-Ahead Tip: Cool soup. Cover and chill up to 48 hours. Reheat over medium heat, stirring frequently.