Shawn C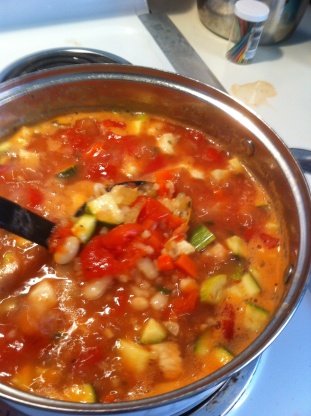 This is my variation of clearing out the fridge with what I had and it turned out great. The prepping time includes the soaking of the beans overnight, you can cut this down by using canned cannoli beans. I just love the acini di pepe pasta, its so TINY and really makes the soup This is a great way to take a small amount of ingredients and really stretching it to feed several people! Serve with some crusty bread and maybe a salad and a nice glass of wine!
2

carrots, diced small

236.59

ml onion, diced

1

stalk celery, diced small

2

garlic cloves, minced

473.18

ml water

709.77

ml chicken broth
salt and pepper, to taste

4.92

ml dried parsley

236.59

ml great northern bean, dry beans soaked over night

2

(850.48 g) can diced tomatoes (italian roma is good)

226.79

g chicken breast, boneless skinless, diced very small

158.51

ml acini di pepe pasta (or any very small pasta you like)

2

zucchini, diced small

14.79

ml fresh basil, minced

59.14

ml parmesan cheese, grated
drain and rinse the beans very well to revoe loose hull skins etc, set aside for later.
in medium/large pot add the first 10 (ten) ingredients. let simmer at a low boil for at least 1 hour.
taste broth and adjust seasonings as needed.
Add chicken, pasta, zuchini and basil. Check liquid level, if there is more chunky stuff than liquid you may want to add several cups of water at this time. let simmer at a low boil for at least 10 minutes.
taste again and adjust seasonings if needed.
serve with a little parmesan cheese grated on top.