Minestrone Soup Gift Mix in a Jar
luvcookn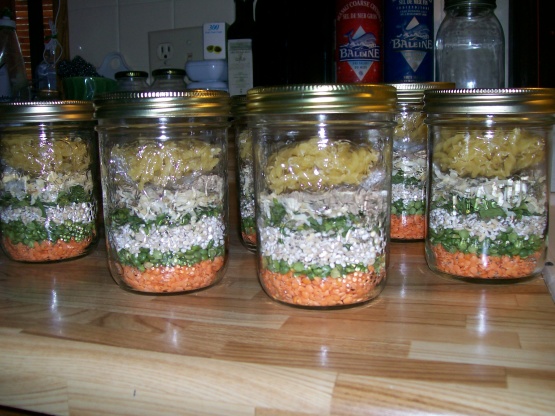 You will need about a two-cup jar..

This was excellent! I made some up as gifts and kept one for myself to try. I didn't even bother adding the extra stuff like the carrots and tomatoes and opted to leave out the pasta as well because I wanted more like a pea soup style. It turned out great. My kids absolutely loved it. The only problem was that it needed quite a bit longer than 1 hour for the lentils to cook, more like 3 hours simmering on low. I'm going to make these to give out again this Christmas.
Directions:.
In a two-cup jar, layer from bottom in the order given, then seal the jar.
Include these instructions on your gift tag:.
In a very large saucepan, combine 8-10 cups of water, a 28 oz can of crushed tomatoes and soup mix.
Add 2 chopped carrots, and 2-4 chopped potatoes (optional 2 cups chopped cabbage).
Bring to a boil; reduce heat and cover and simmer for one hour or until peas are tender -- .