Food.com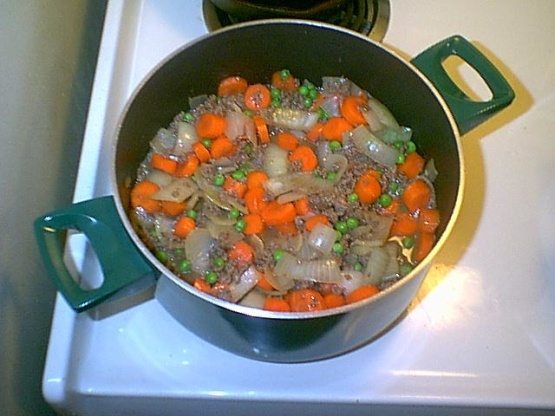 What is "mince and tatties"? - I hear you ask. Basically it is meat and potatoes, but with a Scottish recipe. Ever since I was a kid, I have loved mince & tatties, and even these days I could live on it.

I don't think this was a bad recipe at all, just not to my taste. It reminded me a lot of beef stew made with ground beef, and since I truly dislike beef stew, that's probably why I didn't care for this. It wasn't seasoned to my liking -- maybe it was a bad batch of beef gravy, who knows? At any rate, it smelled fabulous while cooking and looked like a very hearty meal. I think beef stew lovers would really like this!
1

lb beef mince (Yanks call it 'ground sirloin', we usually buy the 8%-10% fat range)

1

large onion
vegetable oil or olive oil
peas (we use frozen)

1

(1 1/4 ounce) packet beef gravy
In a good sized pan (non-stick is best) heat up some oil, chop up the onion, and stir fry.
Break up the mince, and place in the pan.
Stir until brown.
Make up the brown gravy (see packet for directions! LOL).
Add the gravy to the mince, and start to simmer.
Chop up the carrots (as much/little as you want) and add to the mix.
Pour in some peas.
Add salt (we use low sodium)& pepper, stir and simmer the mixture for about 20 minutes.
Peel and chop the potatoes, and boil for about 20 minutes, adding some salt.
Serve and enjoy.
Also great if served with some boiled cabbage or Brussels sprouts.