truebrit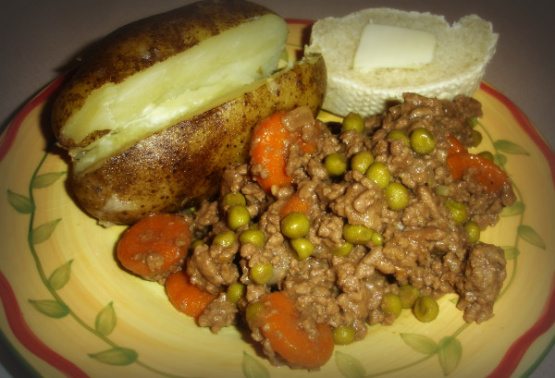 Mince and tatties is a common dish in Scottish households.

Jings, Crivvens, Help Ma'Boab!

Mince and Tatties with oats? Might be a North East coast thing as Aberdonians use oats a lot in recipes but not to my knowledge in Glasgow and the West of Scotland. having said that, every family has their own recipe of anything so I'm going to try it. My Mum made them plain and simple, onions lightly fried then turn the heat up full and sear the mince, best in a non stick pan. Searing the meat (say 125g at a time and breaking up with a fork) until it's showing edges properly brown, not just grey, releases certain chemicals that REALLY bring out the flavour of the meat (you should do this with any red meat, much tastier) then add some stock. Ideally chicken you have saved from the last chicken you cooked (we all save our stock don't we????) even better if it's beef stock but that's a real faff to prepare properly.

Searing any red meat before casseroling or boiling it (try it with lamb in a curry, you'll never do anything else) is vital and keeping the juices from the process even more so. Use plenty of oil, whack the heat up full and fry it stirring frequently. It's nothing to do with sealing flavour in and everything to do with releasing it.

Mum always added Bisto powder, NOT CRAPPY GRAVY GRANULES!!!!! which thickened it and added colour without the salt and chemicals in granuals. Cornstarch or cornflour as we know it in the UK is fine but might not help with colour, never tried it though. She served frozen garden peas on the side although depending on your preference I guess tinned peas would be OK.......not my choice though. Fresh peas are even better especially if you have grown them but they are a summer vegetable with a meal associated with winter, so peas are unlikely traditional fare, or probably more to the point, mince is not the peasant food it is claimed to be. I don't add Bisto or any thickening agent anymore, well, almost never :).

To encourage her children to eat more vegetables, and to hide them, my mother in law used to finely grate a couple of big carrots into the mince, it adds incredible sweetness, you really don't need salt because of it. I'm now a convert as I never liked mushy carrot slices ruining a perfectly fine dish. Pepper was also an exotic spice not so many years ago but freshly ground pepper at the table is too good an addition to pass up, besides I think it's Indians who maintain it's very good for the stomach.

To finish there is nothing like the cheapest potatoes you can get, boiled until they are floury and soft, drained then mashed with a big lump of butter, boil them well or you will get little crunchy bits that ruin mash. And did you know that potatoes are the vegetable least likely to cause allergic reaction? Make sure it's all piping hot (great meal to heat on the plate in the microwave if someone's late) and serve with the peas.

My opinion is that this started as a middle class dish in the UK after the war. Meat of any description was expensive and a plate with simple vegetables once a week was a real treat. It would probably have been served originally with seasonal vegetables but the 60's and 70's middle class discovered frozen peas and that was that, a seasonal vegetable all year round that added exotic colour to an expensive but simple dish.

Someone commented on having it with turnips and parsnips, not sure if they were mixed in but I believe the mince should be the highlight and not mixed with anything more than the grated carrots (and necessary onions) if anything. Nothing better than with mashed neeps on the side though! (turnips in Scotland, swedes in England) and neeps go especially well with pepper as well.
Heat the oil in a pan and sauté the onion until it is brown.
Add in the mince and cook until well browned.
Drain off the liquid.
Add the carrots and oatmeal, mix well and pour in enough water to just cover.
Crumble in the stock cubes, season and stir.
Cover the pan and simmer the mince for about 20 minutes.
Once the mince is cooked thicken the mince with about 3 teaspoons of gravy powder or cornstarch mixed with a little cold water.
Serve the mince with boiled potatoes.