Mimi's Special Fried Eggs
These eggs are so great. You have to make them just right :D I have never had eggs better than these. The ingredients aren't the key to these eggs, its the technique. Very easily doubled.
Directions
Heat a good amount of bacon grease in a skillet.
Crack egg into skillet and break the yolk.
The sides should begin to firm.
Spoon grease over egg to cook.
Egg is ready when it is firm in and out.
Do not overcook.
Drain on paper towels, top with salt and pepper and enjoy!
Most Helpful
My family has been frying eggs like this for YEARS, but we don't break the yolk. You need something to dip your bacon or sausage in & for your toast to mop up all that good tasting yolk! YUMMMMM!!!!!!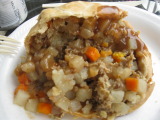 I didn't have to try this one - it's the ONLY way my mother fried eggs for years. Makes really good fried egg sandwiches, and if you don't like your yokes hard, don't break them. It still works.