Mimi's Southern Style Corn
lazyme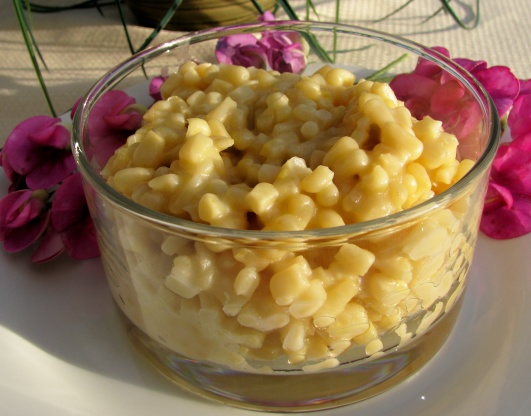 This is my mother's famous corn recipe. I'm not sure where she got it but everyone loves it. I get requests each holiday season to make it. You can use canned corn or fresh, but Mom says you have to use Green Giant Shoepeg if using canned. No other corn matches that one. NOTE: Cook no higher than medium heat as this has a tendency to stick and burn. Stir often to reduce sticking.
2

(8 ounce) cansgreen giant white shoepeg corn

6

tablespoons melted butter

1

teaspoon salt

2

tablespoons flour

2

tablespoons sugar

1

cup milk, divided

SUBSTITUTE

1⁄2 cup cream, instead of milk in the last cooking step
At medium heat, add corn to butter in a large skillet.
Stir in flour, sugar, salt and 1/2 cup of milk.
Cook, covered, for 10 minutes.
Add remaining 1/2 cup of milk before serving and stir well.
VARIATION: Use 8 ears of fresh white corn with large kernels. Cut corn from cobs by first cutting down through the kernels, then scraping the pulp from the cob with the back of the knife. This frees the pulp from the shells.