Chef Dee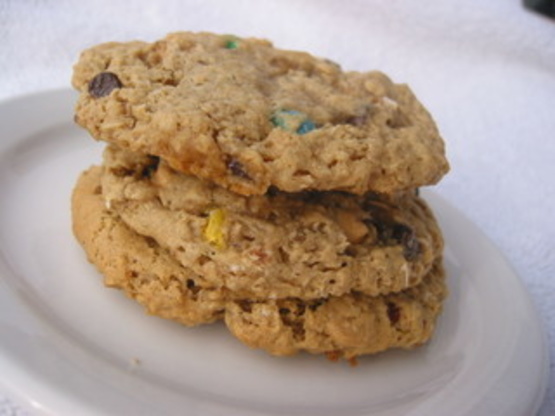 These are huge cookies that the kids will love to get their little hands on. They are great to take to picnics or gatherings. I used to take them to Sunday School picnics when my grandkids were little. I even did a double batch for a treat at AWANA. Adults like them, too. They have delicious flavor. You may notice that there is no flour in the recipe--that is correct--there is no flour. The oats bind it together.

These were easy to make and taste very good. I made too batches. The first batch I made I used the 1/3 cup measure and the cookies came out very large. The second batch I used the 1/4 cup measure since I wanted to get more cookies. These came out smaller of course but still plenty large. Definitely would make these again. The dough did get a bit dry toward the end, I had choc. chips, m&m's and walnut pieces left but not other cookie dough to make it all stick. You can eat these goodies, put them on ice cream or add to your next batch of cookies. I did take some of the m&m's and just pushed them onto the cookies I had ready to go into the oven to use some of them up! LOL
In a large bowl with mixer at medium speed, beat together the first 4 ingredients till light and fluffy.
Add eggs and vanilla; beat 2 minutes.
Blend in baking soda.
Stir in oats and remaining ingredients.
Dough will be very stiff and crumbly.
Drop dough by 1/3 cup measures, 4" apart on a ungreased baking sheet.
Flatten with a spatula to 3 1/2" cookies.
Bake in 350 oven for 12-14 minutes or till golden.
Remove and cool on racks.
NOTE:.
If you need more than 22 cookies, you may use a 1/4 cup measure, but they will not be quite as huge as the other measure.