Mimi's Excellent Cheesy Vegetables
Pamela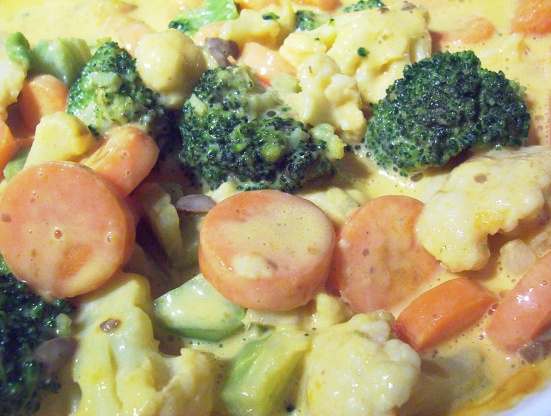 This recipe came from my mother-in-law. It was the best way to get her kids to eat their vegetables. Now my sister-in-law and I take turns making this for every holiday meal.

I am always trying to find recipes to get my kids to eat vegetables. They still did not like these very much. It was tolerable but I don't think I would make again. I think there needs to be more seasoning on the vegetables. Just tasted like I was trying to cover up the veggies with cheese.
1

medium onion, chopped

1

clove garlic, chopped

1

(10 1/2 ounce) can condensed golden mushroom soup

1

(6 ounce) jar Cheez Whiz

2

(16 ounce) packages frozen vegetables (I like broccoli or broccoli cauliflower carrot mix)
Sauté onion and garlic in butter.
Add soup and cheez whiz.
Cook until cheez whiz melts.
Pour vegetables into a 9x13 oven dish or baking pan.
Pour Cheez/soup mixture over top of vegetables.
Cook at 350F for about 20 minutes or until heated thoroughly.