Ycooks2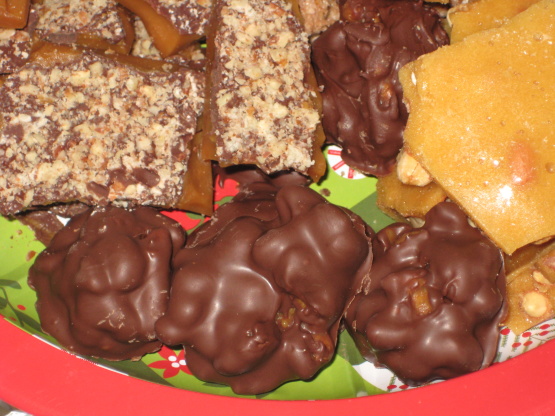 Given to me by Sandra Shearer. Prep time includes cook time and cook time includes refrigerator time and dipping time.

I thought my candy making ended at Christmas, but there was so much extra stuff leftover it only made sence to make some more. Made these to serve at a Super Bowl Party, but now I am afraid there will not be enough left to take! These were very easy to make, and have been a huge hit at home. I will be making them again for Christmas for sure, but I will also find another reason to make them before then! Made for Comfort Cafe.
50

caramels

2

tablespoons butter

2

tablespoons water

3

cups pecans, chopped

6

ounces semi-sweet chocolate chips

16

ounces chocolate almond bark
Melt first three ingredients together and then add pecans. Stir and let cool for about 5 minutes.
Drop by teaspoon on to buttered cookie sheet, put in refrigerator to harden.
Melt chocolate chips and almond bark in microwave. Micro for 1 minute and then in 15 second intervals until chocolate mixture is melted.
Dip the candy one at a time into the chocolate. Place on cookie sheet and let them harden before moving.