Prep 10 mins
Cook 15 mins

We always eat carrots this way, my mum came up with this recipe. We like them a lot.
Directions
Glaze the onion in butter.
Add the carrots, the milk and some pepper (to taste).
Leave to simmer on medium heat for 15 minutes, stirring from time to time.
Reviews
Most Helpful
These were really tasty carrots! The carrots made the milk slightly sweet and it tasted so creamy! Usually recipes warn you not to curdle the milk, but I think the effect on this recipe was appropriate. I used 2% milk and baby carrots, and added a couple of minutes to the cooking time. I recommend that you be diligent about mixing on a regular basis, particularly with baby carrots. The outcome was great! I served this as a side dish to a (sightly salty) tofu recipe so I was grateful that there was no extra salt in this recipe. Thanks so much! Great job.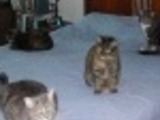 Not so good. No flavor. Not worth the effort. Steamed carrots have more flavor.
This was a fine recipe. It was tasty and innovative, but I personally prefer steamed carrots with a little bit of butter. However, it was fun to try something foreign!