Kim D.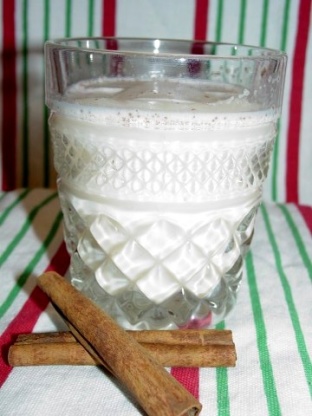 Horchatas are whitish refreshing beverages usually made with rice, but can also be made from ground almonds and/or cantaloupe seeds.

I did an experiment using brown rice for one batch and white rice for the other and detected no difference in taste, texture or even the color. The only difference with using brown rice is that it is healthier. In the soaking water with the rice I also added 2 heaping tablespoons of slivered almonds. When ready to pour the horchata in drinking glasses I would strongly recommend using a small sieve to catch any bits of rice that may have not been sieved out. Each batch had 1/3 cup of unbleached sugar and about 1 whole tablespoon of grated piloncillo. We enjoy the sprinkle of cinnamon on top. Instead of evaporated milk I opted to use recipe #39562 for an easy homemade version. Very delicious and much, much better and fresher tasting than any horchata I've had in a restaurant. I think next time I might use jasmine or basmati rice for a different flavor.
Soak the rice overnight in the water with the cinnamon strips.
Next day discard cinnamon strips.
Process in blender in 3 batches with evaporated milk and soaking water. Pass through sieve after each processing.
Pour into a pitcher, add theskim milk, sweeten, add vanilla and mix well by stirring.
Refrigerate until serving time.
Sprinkle a little cinnamon on each serving just before drinking.