Milk Kefir Does Your Body Good
Rita1652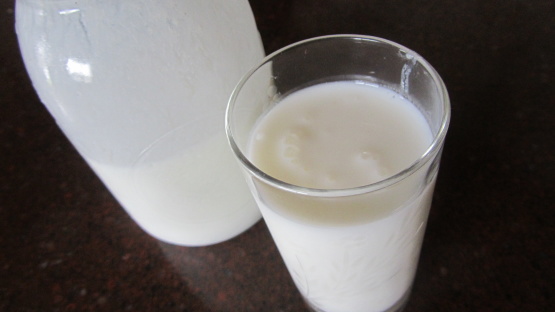 A sour and pungent, milk kefir is a cultured dairy food originally from the Caucuses – the region where Europe meets Asia. I find it's texture to a drinkable plain yogurt Rich in beneficial bacteria, phosphorus, vitamin K, biotin and folic acid – nutrients that are essential to health and well-being. Good reading about kefir http://nourishedkitchen.com/milk-kefir/ Kefir Grains can be found http://www.culturesforhealth.com/ or http://www.kefirlady.com/orderkefirgrains.htm

Everyday for eight years, I have been drinking one quart of raw organic goat's milk kefir but have never attempted to make it. I did not realize that culturing kefir was so simple until discovering your Milk Kefir Does Your Body Good recipe. I always assumed that the milk had to be heated like when making yogurt. I ordered one teaspoon of kefir grains online and "grew" the kefir grains until there was a full tablespoon worth. Now I can make my own raw organic goat's milk kefir for less than half the price of the premade kefir. After culturing my own kefir, I realized that the pricey premade kefir has been fermented only for about 12 hours. I like to ferment my kefir for 48 hours to decrease the amount of lactose and increase the amount of B vitamins (the longer fermenting time allows the kefir grains to digest more lactose.) Also, if using a quart jar for fermenting, I recommend using a fourth of a cup less milk (3 ¾ cups total) because the kefir expands and bubbles as it ferments and may overflow when filled to the top of the bottle. Instead of covering the kefir with a loose lid, I found that a paper coffee filter held in place with a rubber band works better for me. Mold was forming from the buildup of gases and moister trapped by the loose lid. The coffee filter allows the kefir to breath. Also, I stir the kefir about every 12 hours to redistribute the grains. Kefir naturally separates causing the whey to float and the solids to sink to the bottom of the jar. The whey is excellent to use for soaking legumes and grains and lacto-fermenting pickles, relishes, and recipe #442397. Thank you, Rita~, for an excellent recipe that benefits both my health and my pocketbook!
1

tablespoon milk, kefir grains

1

quart fresh cow milk or 1 quart goat's milk or 1 quart coconut milk, unsweetened undiluted

For additional benefits and taste

lemon (optional)
berries (optional)
peach (optional)
Place milk kefir grains in the bottom of a clean mason jar. Cover with 1 quart fresh milk.
Very loosely, place the lid and band on the mason jar. You do not want to tighten it because, as with all fermentation, carbon dioxide is created and needs to escape. Culture for 24 – 48 hours at room temperature. For a for a thin, mild kefir you can culture for 12 hours.
Once culturing is complete, strain milk kefir into a new mason jar, cap and refrigerate. Begin re-culturing a new batch of kefir, if desired or allow your kefir grains to rest in water in the refrigerator for a few days until you're ready to make kefir again.
"Cultures for Health suggests that it may take a batch or two for the milk kefir grains to adapt)" and for the grains to grow.
Optional second ferment:.
After the first 24 hours I strain and add a half an organic lemon to it and let it set for an other 24 hours. Then chill.
Or I add a bunch of organic fresh or frozen berries and let sit for 24 hours then chill.
You can combine the lemon and berries or add whatever fruit u most enjoy.
But it must be organic.
If you desire a smooth texture you can blend it. Yes the lemon rind at all!