Milk Free Salmon Vegetable Fettuccine
Redsie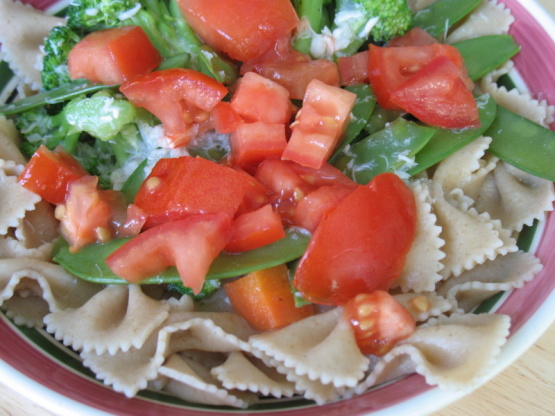 Substitutes chicken broth for milk for those who cannot digest milk. From Baby Let's Cook! Under the 12-18 month chapter.

Top Review by Redsie
This was a really different pasta dish. Had a bit of trouble blending the flour in the chicken broth, but besides that little "problem", really enjoyed the pasta!! Didn't have any fettuccine so used bow ties instead. Loved the different veggies in this dish and the fact that there is no cheese involved (though I love cheese!!) - I didn't really miss it!! I steamed my veggies in the microwave, one at a time, to save some time. Thanks WI for a great pasta dish! :)
Bring a large pot of water to boil and add the fettuccine to cook until it is tender and not chewy, about 12 to 15 minutes.
Drain and rinse under cold running water.
Drain again and toss in a bowl with 1 tsp of the oil.
While the fettuccine cooks, bring another pot of water to a boil and blanch the carrot, broccoli, and snow peas, one at a time, until each is crisp tender, about 5 to 7 minutes each. When each is cooked, remove with a slotted spoon to a colander, and rinse under cold water.
Set aside, covered to keep warm.
Heat the remaining 2 tsp of oil in a large skillet over medium heat.
Add the garlic and cook briefly, then stir in the flour whising constantly until it is well blended.
Gradually add the chicken broth, continuing to whisk until the broth thickens, about 5 minutes.
Add the cooked vegetables, salmon and tarragon to the sauce.
Divide the warm pasta among four plates.
Spoon the sauce over the pasta and top with chopped tomatoes.