Milk Free Oatmeal Pancakes (Whole Foods)
ladypit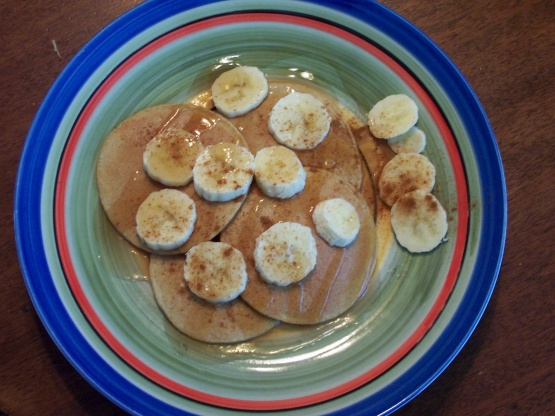 This is a super fast recipe found when I was collecting whole foods recipes. Healthy, dairy free, fast, easy, and tasty. The sugar and cinnamon are really to be done to your taste. The measurements on those ingredients are approximate. The yield is also approximate.

I tried this recipe and absolutely loved it! Not only are the pancakes delicious, they are healthy. I'm on a diet and can't have normal pancakes but these are a fantastic alternative!!! I recommend them... they're quick and easy!
Place all the ingredients in a blender.
Blend until everything is broken down into a liquid.
Heat a griddle and pour by 1/8 cup onto the hot griddle.
Cook until bubbles start to form, and then flip them.
Serve warm topped with sliced bananas and cinnamon if you like.