Milk-Free, Egg-Free Pancakes
Zeusdogg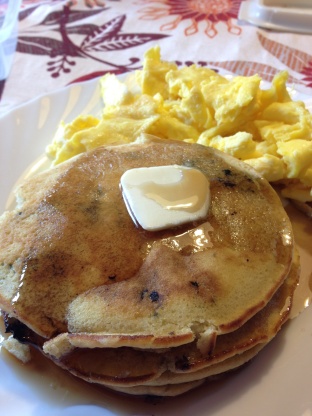 My oldest daughter was severely allergic to milk for three+ years, then *poof* the allergy ceased to exist in her system. While she had this allergy, we struggled with Milk-Free recipes/food. I began making nearly everything from scratch. I bought a really great book, The Milk-Free Kitchen, where this recipe is from. We still make these soft, fluffy and delicious pancakes. I will also post the recipe for Milk-Free Blueberry Pancakes.

WOW! Im so shocked! Who needs eggs!? I didnt have any eggs in the house and the kids wanted pancakes. I was expecting these to not be so great and boy was I WRONG!! These are fluffy and delicious! I used milk and added 1 teaspoon of vanilla extract. I cooked them in some butter, didnt stick, easy as pie and OH SO GOOD!
Sift flour, sugar, baking powder, and salt together into medium mixing bowl.
Melt 2 1/2 Tbsp margarine in frying pan until melted.
Be sure to tip the pan side to side to coat/grease all over.
Pour melted margarine in a small bowl, add water and egg (if you want to add egg); Mix well.
Stir liquid mixture into the dry ingredients until it is thoroughly moistened.
It is OK if this batter is lumpy.
Cook the pancakes over medium-high heat on the stove-top (or 375F on electric frying pans).
Cook pancakes until the tops are bubbly and the bottoms browned.
Turn the pancakes over to cook other side (approximately four minutes per side).
Serve hot with margarine, honey, brown sugar or maple syrup.
Actual cooking time will depend on the size of the pan you are using; I have a small frying pan, so I have to do these individually. My mom has a griddle large enough to cook them all at once.