Milk Chocolate Toffee Bars
Pamela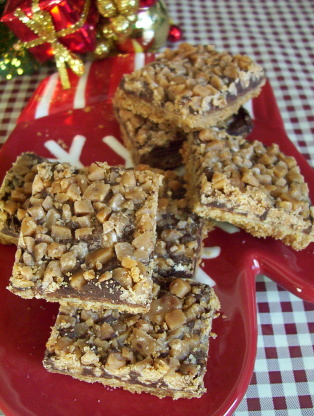 These bars take a little extra time to make but are well worth it! Be sure to use Eagle Brand sweetened condensed milk (or another brand you are familiar with) for best results. Several people have requested this recipe so I decided to post it and forward them all copies. Enjoy!
Preheat oven to 350° (325° glass pan).
Grease 9x13 pan.
To prepare crust, cream all ingredients until very well blended.
Press evenly into pan.
Bake for 20 minutes or until light brown.
Set aside to cool while making the filling.
Heat milk and margarine on stove, stirring constantly, until thickened.
This will take 5-10 minutes.
Spread over crust.
Bake for 15 minutes, until golden brown.
Sprinkle evenly with chocolate chips.
Return to oven for 2 minutes to melt the chocolate.
Remove from oven and spread chocolate smooth.
Sprinkle toffee bits on top.
Using the back of a spoon, gently press the toffee into the melted chocolate.
Cool completely.
Cut into bars before refrigerating.