Milk Chocolate Rolled Crescents
Juju Bee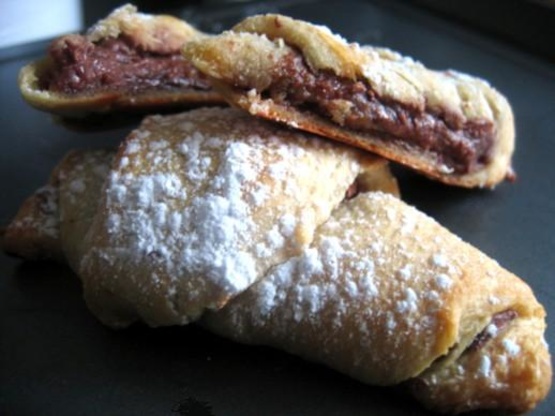 Mmmmm! Perfect for those "Must have chocolate-NOW" cravings. Easy and sweet and YUMMY!

these were great! i needed something sweet to eat but didn't have a whole lot on hand. i always have these three things on hand, so i'll definitely be making these oh-so-easy treats again! i did find that the baking time had to be increased a little compared to the baking time of plain crescents. and i tried the raspberry as recommended by other reviewers, but found that i liked them best with just chocolate! thanks for posting!
1

(8 ounce) can refrigerated crescent dinner rolls

1

cup milk chocolate, chopped into small pieces
Unroll dough, and separate triangles on a clean surface.
Sprinkle chopped milk chocolate onto each triangle and lightly press the chocolate into the dough.
Roll crescent into traditional crescent roll.
Transfer crescents onto an ungreased cookie sheet.
Bake according to crescent package instructions.
Dust with powdered sugar and enjoy!