Redsie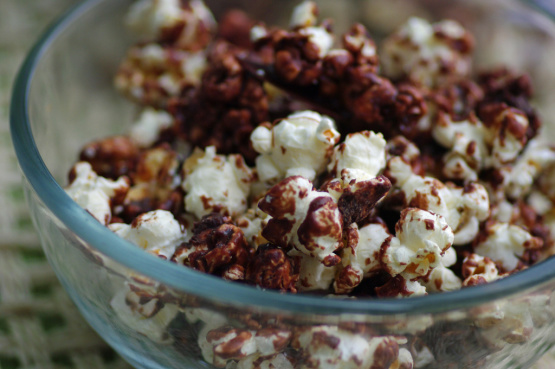 This copy cat recipe from Nestle's Kitchens makes a crispy chocolate coating for peanuts and popcorn. Enjoy!

Really good recipe. It is addictive. I did make a few changes after the second time I tried it. I used 1 cup of chopped toasted almonds in place of the peanuts, and increased the popcorn to 14 cups. I only baked the popcorn for 10 minutes, stirring after 5.
Preheat oven to 300F degrees.
Grease a large roasting pan.
Combine popcorn and nuts in prepared roasting pan.
Combine morsels, corn syrup and butter in a medium, heavy-duty saucepan.
Cook over medium heat, stirring constantly, until mixture boils.
Pour over popcorn and toss well to coat.
Bake, stirring frequently for 30 to 40 minutes.
Loosen popcorn from pan and allow to cool slightly in pan.
Remove to a wax paper lined cookie sheet to cool completely.
Keeps for two weeks in an airtight container in the fridge-yeah, right!