This is my favorite chocolate mousse French Silk type pie recipe. You can change this to suit your tastes, like using semisweet chocolate chips if you prefer a not-so-sweet dessert, or using graham cracker crust instead of chocolate crust. You can also garnish this with chocolate kisses, chocolate shavings, more whipped cream, etc.
1 cup milk chocolate chips
1⁄2 cup milk, divided
3 ounces cream cheese, softened
8 ounces frozen whipped topping, thawed
1 9 inch chocolate crumb crust
Directions
In a double boiler, melt chocolate chips and 1/4 cup milk.
In mixing bowl, beat cream cheese and remaining milk until smooth.
Gradually beat in the chocolate mixture.
Fold in whipped topping.
Pour into crust.
Chill or freeze for later use.
Most Helpful
You couldn't ask for anything to be easier! I melted the chips and milk in the microwave, then popped the pie in the freezer. It was milky and rich and the perfect treat to end dinner on a hot summer day! Thanks for sharing this wonderful recipe.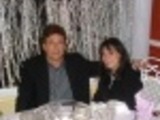 I followed the directions exactly and I used a graham cracker crust. This pie went together so fast and easy. I decorated it with some of the extra chocolate chips then popped it in the freezer until dinner. The taste was very rich and creamy. My group thought it was delicious! I was impressed that such a little amount of work resulted in such a good dessert! Thanks Laura70 for sharing your recipe!
My kids absolutely loved this pie, even dd who hates cool whip. I would definately freeze it as it didn't set up too well in the refrigerator. I also melted the chocoalte chips and milk in the microwave.