Milk Chocolate Frosted Layer Cake
Bev I Am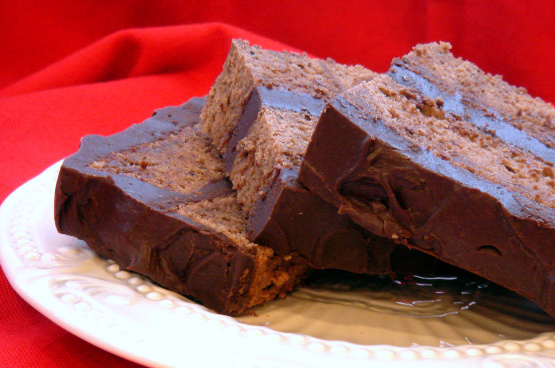 This light and delicate square layer chocolate cake is loaded with an ultra creamy milk chocolate icing. Be sure to use cake flour, not all-purpose, to give your cake its delicate texture. Instead of slicing into squares, I prefer to slice vertically down the center, then cut slices horizontally about 1 inch apiece. I found this recipe in Food an Wine magazine. Cook time also reflects cooling time.

I had such high hopes for this one. The frosting actually does taste great- I just could NOT get it to a "frosting" consistencey. It never got "hard" and stayed kinda runny. And I didn't care for the cake itself. It was NOT sweet and had the consistency of a fruitcake. I'm sorry but we really did not like this one. I'm giving it 4 stars b/c I think I could work on it and improve it.
Preheat the oven to 325°.
Butter and flour two 9" -square cake pans; set aside.
In a medium bowl, whisk the cake flour, cocoa and baking powder; set aside.
In a medium saucepan, melt the butter in the milk over low heat.
Transfer to a large bowl and allow to cool slightly.
Whisk in the egg yolks and 1/2 cup of the sugar.
Add the dry ingredients and whisk until smooth; set aside.
In a clean bowl, beat the egg whites with the salt until soft peaks form. Gradually add the remaining 1/2 cup sugar and beat at medium-high speed until the whites are stiff and glossy.
Fold beaten egg whites into the batter until no streaks remain.
Divide the batter between the two cake pans and bake for 25 minutes, or until the cakes are springy and a toothpick inserted in the centers comes out clean.
Transfer the cakes to a rack and allow to cool completely.
While the cakes are cooling, in a medium saucepan, bring the heavy cream to a simmer.
Put the chocolate in a heatproof bowl and pour the hot cream on top.
Allow to stand for 3 minutes, then whisk melted chocolate until smooth.
Let the frosting stand at room temperature, stirring occasionally, until thick enough to spread, about 1 hour.
Turn the cakes out of the pans and put one layer on a plate.
Top with 1 cup of the frosting, spreading it to the edge.
Top with the second layer and spread the remaining frosting over the top and sides.
Let the cake stand at room temperature for about 30 minutes before cutting into squares.
Serve and enjoy.