Mile-High Crock Pot Lasagna With Zucchini or Spinach
BecR2400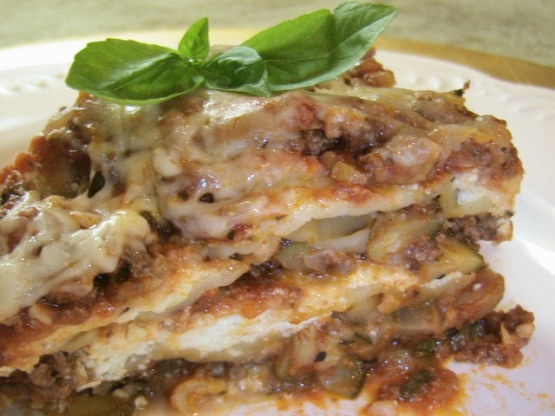 This is such a wonderful lasagna recipe! Very hearty and delicious with nice deep layers, plenty of meat and cheese, and just the right amount of seasoned sauce--- plus it's a great way to sneak some veggies into your family's meal!! Very easy to prepare, and any leftovers are great reheated the next day. Equally good with chopped spinach or zucchini.

I've been making lasagna most of my life. I've been called the lasagna wizard but, this one tops them all! I use Italian sausage and I use a couple different cheeses in addition to what is mentioned here. This is THE BEST lasagna recipe ever. I look at recipes as a "suggestion" and then go from there. This one is so good, I even converted it to an oven lasagna and it was just as good. Thank you for sharing!!!
Brown the beef, onions, zucchini, and garlic in 2 tablespoons olive oil in a large skillet, stirring to break up meat.
Stir in the oregano, basil, pepper, crushed anise seeds, sliced mushrooms, parsley, spaghetti sauce, and wine.
In a separate bowl, stir together the beaten egg and the ricotta cheese, beating well until mixture is smooth. Stir in the grated Parmesan cheese, combine well.
Grease the bottom and sides of the crock pot (I use cooking spray or butter).
Layer about 1/4 of the meat sauce mixture in the bottom of the crock pot. Put a layer of noodles on top of that (break noodles to fit, overlapping is fine). Put about 1/3 of the cheese mixture and sprinkle with 1/4 of the mozzarella. Repeat with sauce, noodles and cheese for another two layers. Top with meat sauce and a little Parmesan and shredded mozzarella on top.
Cover and cook on low for 4-6 hours (4 hours on HIGH plus 30 minutes on LOW, in my 1990s 'older' model 4-Quart crock pot), or until noodles are tender.