Mile-High Caramel Apple Pie
Annacia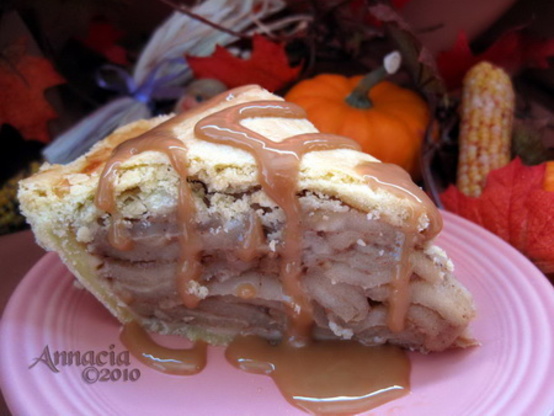 Four pounds of apples go into this towering pie -- but you don't have to peel a single one. Just slice the fruit and pile it up. Warm caramel sauce drizzled on top provides extra sweetness.
We really enjoyed the flavor of this pie, the tartness of the apple with the sweetness of the caramel. I cut the recipe in half to make a smaller pie except for the cinnamon, I used a bit more than half and I added about 1/2 tsp of nutmeg. Making this again I would peel the apples, though there weren't a lot, my DH said finding the peels in his pie was like finding bones in his fish, and it really bothered him. I only added the caramel to individual slices of pie, so everyone could control their own level of sweetness. I wasn't sure if the extra baking steps made a difference flavorwise compared to my regular pie, I may have to make it again really soon to decide : ) Thanks Annacia for another lovely recipe. Made for PRMRT
Preheat oven to 475°F.
In very large bowl combine butter and cinnamon; add apples and toss gently to coat.
Spread apples evenly in a parchment paper- or foil-lined, large roasting pan or two 15x10x1-inch baking pans.
Roast (one pan at a time if using baking pans) 4 to 5 inches from heat for 7 to 10 minutes or until apples start to brown on edges, turning once halfway through.
Cool apples in pan(s). Reduce heat to 375°F.
Prepare pastry or let refrigerated pastry stand at room temperature according to package directions.
Line 9-inch pie plate with half of pastry (a deep one).
In very large bowl stir together brown sugar, flour, and salt.
Add apple slices and any juices; stir to coat.
Transfer to pastry-lined pie plate.
Trim top crust to edge of pie plate.
Fold top pastry edge under bottom pastry; crimp edge.
Brush top with mixture of beaten egg and water.
Cover edge of pie with foil to prevent overbrowning.
Place on middle shelf in oven; place foil-lined baking sheet on lower rack beneath pie.
Bake 30 minutes; remove foil from pie. Bake for 35 to 40 minutes more or until top is golden and filling is bubbly.
Remove to a wire rack.
While warm, drizzle with some of the caramel topping.
Cool completely.
Serve with remaining topping.