Mild-Mannered Spanish Rice
Mercy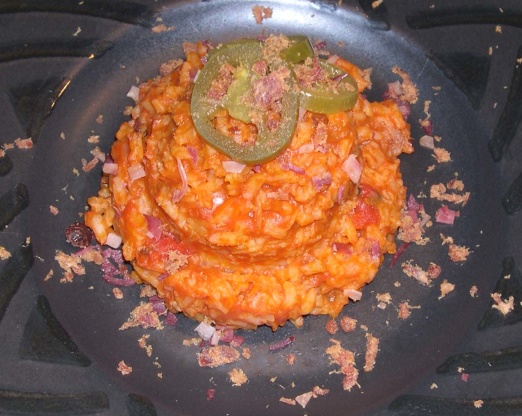 This is my Mom's recipe. I prefer to omit the bacon and use olive oil in its place. Additional spices, like cumin or cayenne, may be added for more heat, but I like this particular recipe because it is so tasty on its own and it can cool down or balance out any spicy foods that it may be accompanying.
Fry the bacon until crisp, remove the bacon from the pan and crumble.
Saute the rice and onion in the drippings/olive oil until the onion is soft, stirring constantly.
Add the V8 juice and green pepper.
Bring to a boil, then reduce the heat to low, cover and simmer for about 25 minutes or until the rice is tender and liquid is absorbed, stirring occasionally.
Fluff with a fork and garnish with the crumbled bacon.