Mild Italian Sausage, Tomato & Zucchini Stew
Chef*Lee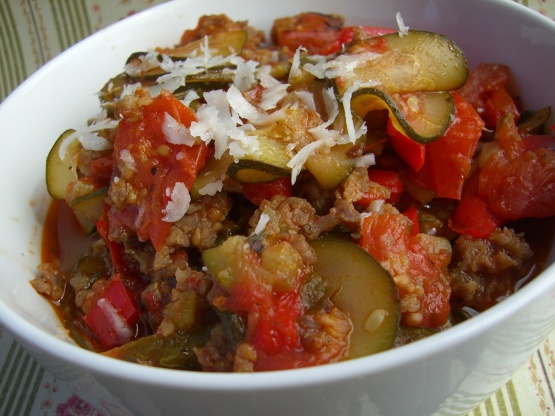 How can anything with Italian sausage in it be bad??? This is great-tasting and easy to make! I cooked this in my dutch oven instead of a saucepan. I used 3 (instead of the 1 1/2) cups of chopped celery and made sure that I used the hearts then the rest of the stalks. I think that this type of stew or dish is best when you layer the seasonings so I really sort of sprinkled the salt and pepper and other seasonings each time I added vegetables instead of putting the salt (especially) and other seasonings in all at once. Also, I used garlic powder instead of garlic salt. I used 1 red bell pepper and 1 green and I thinly sliced my zucchini on a mandoline. Used 12 oz fresh cherry tomatoes, halved and 2 cans of fire-roasted tomatoes slightly drained. Finally, I reversed the order that I put the peppers and zucchini into the dish. I added the peppers after the celery had cooked down a bit because I thought they needed more cooking time than the zucchini then the zucchini was my last vegetable that I added. Served with a little orzo pasta. We really enjoyed this Italian dish, thanks for the recipe Pipman!!!!
Brown sausage in large, deep saucepan.
Add sliced celery and cook for 15 minute.
Drain off fat. Add tomatoes, tomato juice, zucchini and seasonings.
Simmer, covered for 20 minute.
Add green peppers, summer an additional 15 minute.
Garnish with cheese. Serve with French bread.
Note: For more liquid, add tomato juice (And I would use garlic cloves instead of garlic salt, if you like garlic).