lets.eat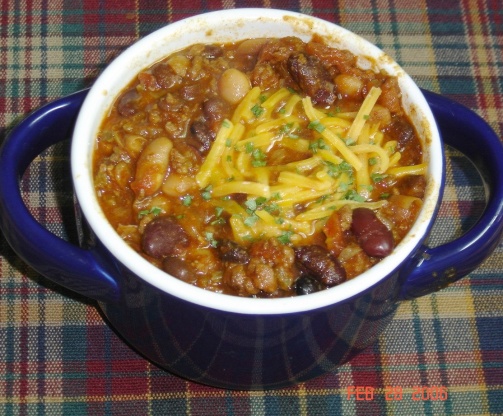 Sweet Hungarian paprika is the secret ingredient that makes this chili mild but bursting with rich flavour. The three kinds of beans are pretty, but you can use whatever beans you have on hand. And for all you folks that think that "real" chili doesn't have beans, I can only say that I don't want to make a historically authentic Texan dish - I just want a way to cook my healthy, high-fibre, low-fat beans, and I refuse to call them "Chili flavoured beans with ground beef." So there.

This is so yummy! We made the recipe exactly as stated, but added a tablespoon of garlic and used smoked paprika. It was even better the next day after all the flavors had time to meld together.

Thinking cumin would really add flavor to it also!
Drain the beans, and put them in a large pot with the tomatoes and the ketchup.
Set the pot over medium-low heat.
Peel and chop the onion; wash and chop the celery.
Saute the onion and celery in the oil until softened; add them to the pot.
Break up the meat and brown it in the same skillet as the vegetables; when nearly done, add the spices.
Add the meat to the vegetables and simmer for half an hour to an hour.
Serve with hot buttered toast.