Mikey's Favorite Meatless "paghetti" Sauce
Parsley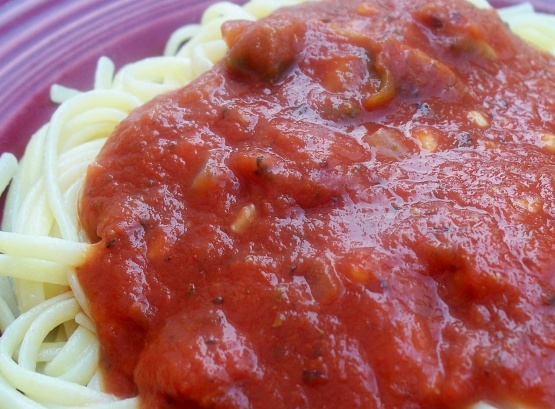 My kids and I prefer meatless spaghetti sauce. (Hubby has to have meat in everything, but that's his problem.) DS#2 got his interest in cooking from this recipe. I let him sit on a high stool by the stove and his job is to gently stir the sauce. Keeps him busy for a good 30 minutes. He is a self-proclaimed "good cooker." ;) This makes enough for a very saucy 1 lb of spaghetti or a not-as-saucy 1 1/2 lb spaghetti.
In a large pot, heat olive oil over medium heat.
Add the onions, green pepper, mushrooms and garlic; sautee and stir for about 5-6 minutes or until veggies are soft.
Add the crushed tomatoes, tomato paste, water, red wine, salt, pepper, oregano, basil, thyme, ground fennel seed, and sugar. Stir well.
Gently simmer, stirring often, for 30-40 minutes.
Stir in the sour cream and simmer for another five minutes.
Adjust seasonings and serve over 1 - 1 1/2 lbs hot ccoked "paghetti"!