Mikey's Chicken a La King
Annacia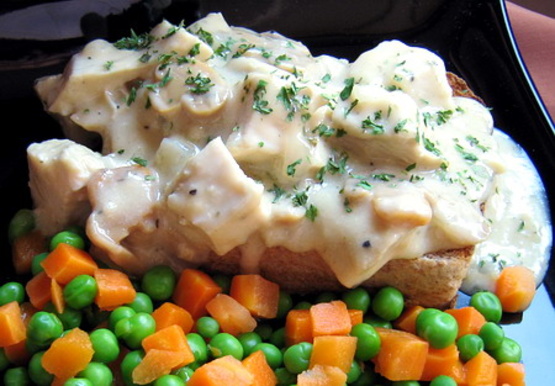 This is the safest place I can think to put this recipe. I went searching for it and almost couldn't find it! The is the only Chicken and Biscuit recipe my husband will eat!

Great recipe. Very simple. I added a couple leftover half-empty bags of frozen mixed veggies from the freezer and served it with homemade biscuits. My family loved it. There was hardly any left over, and I caught Dad snitching spoonfuls out of the pot.
Melt margarine/butter in a large skillet over medium heat. Add mushrooms and onion cook until crisp-tender.
Stir in flour and pepper. Cook over low heat until mixture is smoothand bubbly stirring constantly.
Stir in bouillion, milk, water and reserved mushroom liquid. Bring to a boil, stirring constantly. Boil for 1 minute stirring constantly.
Stir in chicken. Cook until thoroughtly heated, stirring occasionally. Serve over biscuits.
*Note: I have added pea, corn and carrots to this, either one or all. Very Good!