alligirl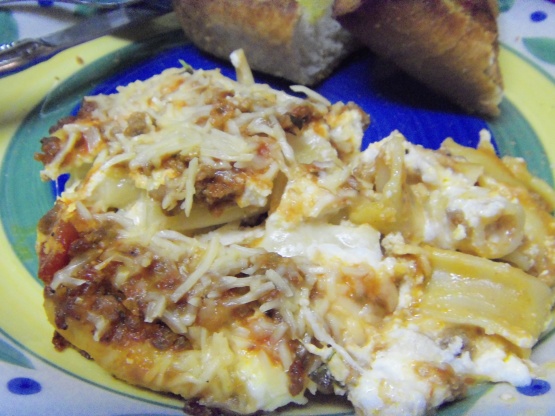 My husband found this recipe and modified it and it is a big favorite at home and an easy dish to make for work pot luck meals -- big raves! We have substituted chicken or sausage for the ground beef -- all three are really good!

I reduced this recipe by half, and only used 1/2 of a 32 oz. jar of roasted garlic and herb sauce, which was perfect! I did follow as written, (although I forgot the basil while taking the photo) and we really enjoyed the dish. I will make it again, for a pretty quick week-night pasta meal. Thanks for sharing, Cheryl P.
Bring a large pot of lightly salted water to a boil. Add pasta and cook for 8 to 10 minutes or until al dente; drain.
In a large skillet, brown beef over medium heat. Add onions; saute until tender. Drain off fat and add spaghetti sauce; simmer for about 15 minutes.
Preheat oven to 350 degrees F (175 degrees C).
In a lightly greased 2 quart baking dish, place about half of the pasta; top with a layer of provolone and mozzarella cheese slices. Spread on a layer of half the spaghetti sauce mixture and ricotta cheese.
Cover with remaining pasta, cheese and sauce; sprinkle a layer of parmesan cheese and fresh basil.
Bake in preheated oven for about 30 minutes or until cheese and sauce are bubbly; serve.