Mika G.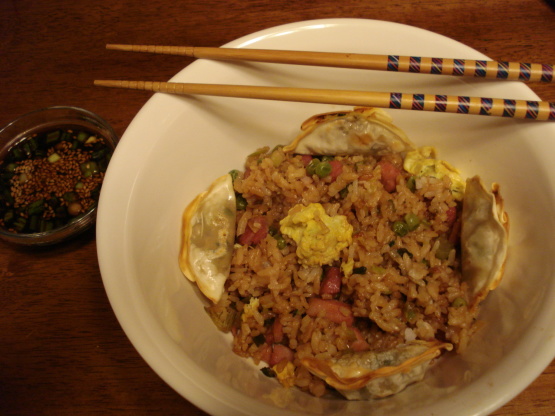 I love this recipe! It's so easy. Just add one ingredient after another to a wok, stirfry for a few minutes, toss and serve. This is so good my family likes it better than the restuarants!
Pour cooking oil into a nonstick wok or large heavy skillet. Preheat over medium-high heat. Add the ham and green onion; stir-fry for 1 minute.
Add the cooked rice, peas, celery and soy sauce. Cook for 3-5 minutes or until mixture is heated through. tossing gently to coat all of the ingredients with the soy sauce.
Push rice mixture to the sides of wok. Add the lightly beaten eggs to the center of the wok or skillet. Cook and stir about 1 minute or until the eggs are completely cooked and well mixed with the other ingredients.
Add several drops of toasted sesame oil and pepper to taste. Stir until the ingredients are well mixed and serve immediately.