PaulaG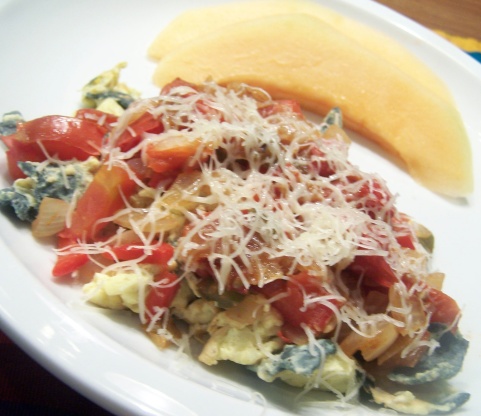 Eggs with corn tortillas, onion, peppers and tomatoes. This lower fat version is from Southern Living.
Top Review by PaulaG
For a low-fat version, this is pretty good. I did miss the addition of a meat to the dish; however, really enjoyed the vegetable sauce that tops the dish. I did not have a green bell pepper so I used red which what I had on hand. Used a jalapeno pepper and the corn tortillas were blue corn. When cutting the corn tortillas, I use my kitchen scissors which works great. A nice breakfast served with fresh melon.
Saute first 4 ingredients in a large nonstick skillet coated with cooking spray over medium heat 5 minutes or until tender.
Add tomato, broth, cumin and 1/4 t salt; simmer, partially covered, stirring ocassionally, 15 minutes. Remove from skillet; keep warm.
Cut tortillas into 1-inch strips; cut in half crosswise. Cook strips in large skillet coated with cooking spray over medium heat 10 minutes or until crisp.
Add eggs to skillet; cook over medium heat, without stirring, until eggs begin to set on bottom. Draw a spatula across bottom of skillet to form large curds.
Sprinkle with remaining 1/4 t salt and tortilla strips, and continue cooking until eggs are thickened but still moist (do not stir constantly).
Remove from heat. Spoon vegetable mixture over egg mixture, and sprinkle with cheese.